Meet The Pro
Meet The Pro
Kevin Cretella – Director of Tennis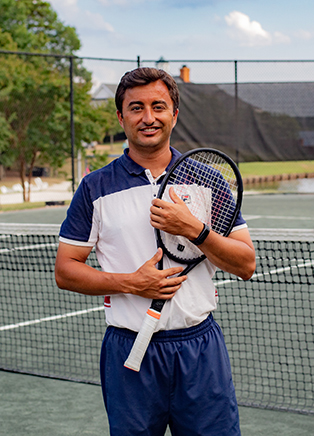 Fawn Lake Country Club is honored to work closely with tennis professional Kevin Cretella, our Director of Tennis and primary tennis program and clinic trainer. Kevin is known for his high energy and unwavering passion for the game. He inspires his members and co-workers alike to love the game of tennis. He is an outstanding technical instructor who employs a feel-based approach in his coaching methods. He derives his greatest pleasure in helping others fulfill their potential both on and off the court.

Kevin grew up playing and working at Montclair Country Club in Woodbridge, Virginia, where he developed a passion for tennis. He played Division 1 College Tennis at James Madison University, where he earned a Bachelor of Science in Kinesiology with a concentration in Sport and Recreation Management as well as a minor in Business Management. Kevin spent the last 10 years working with tennis greats such as Nick Bollettieri and Cliff Drysdale in tennis hotbeds including Miami and the Hamptons.

When you combine Kevin's experience with his engaging personality and excellent communication skills, it is clear he is a huge driving force that will propel our club's tennis program to new heights. Kevin offers private and semi-private lessons, scheduled and custom clinics, camps, socials, tournaments and more. Fawn Lake members are privileged to have Kevin on board our staff.