Our Team
CLUB ADMINISTRATION
Bret Shifflett – General Manager
Bret joined our team as General Manager and has responsibility for the Club's day-to-day operations. With his unique background in golf, tennis, and food and beverage, along with his extensive country club management experience, he is an outstanding choice to lead our Club forward. Bret graduated with a BA in Sociology and Public Administration from the University of Maryland, Baltimore County and played on their Varsity Men's Tennis Team. He has been a Class A Member of the PGA since 2006 as well as a Professional Golf Teachers & Coaches of America Certified Golf Instructor.
Prior to moving to Fredericksburg, Bret served as GM of Fords Colony Country Club in Williamsburg, VA, the Montgomery Country Club and the Links at Challedon, both in Maryland. Most recently he served as GM of Fredericksburg Country Club. Bret and his wife Kristin live in Fredericksburg, and share their home with two Great Danes (or is it the other way around?). Contact Bret at 540-972-6200 ext. 4
Sarah Hollars – Accounting Director
Sarah was born and raised in Locust Grove, VA and moved to Nashville, TN in 1999.  After living in Nashville and receiving her Bachelor's Degree from Middle Tennessee State University, she moved back to Locust Grove in 2008 to be closer to her family. Sarah joined the Fawn Lake management team in March 2018 and took over as the Accounting Director in May of that same year.  She brings with her over 17 years of experience in a Country Club setting with 10 years spent in the Business Office at Fredericksburg Country Club, first in Accounts Receivable and then as the Accounting and Human Resources Director.  Sarah still lives in Locust Grove, three houses from her childhood home and parents, with her husband and three of their four children, three cats and two dogs.  When not at work she enjoys watching her children play baseball, basketball and do gymnastics as well as trips to Walt Disney World. Contact Sarah at 540-972-9658

Jenelle Lavarine – Director of Sales & Marketing
Jenelle joined Fawn Lake Country Club as a part-time server in September of 2017 while testing to work for USPS. It wasn't long before she fell in love with the members and the club that she declined 8 different offers and decided to stay here in Fawn Lake. One month later, she also took on a role with Fawn Lake Community Association as a security officer working the front gate part-time during the club's off-season. Her time spent in both positions gave her the opportunity to get to know many of our members and residents and she quickly became known for her personable demeanor, outstanding memory and excellent service. In the fall of 2018, Jenelle added Club Communications to her responsibilities on a part-time basis while ending her duties with Fawn Lake Security in January 2019. She assisted in many membership areas, including e-mail communications, event flyers, and various administration projects. In the summer of 2019, she also began working with one of Fawn Lake's Signature Builders while assisting them in day to day operations. At the end 2019, she then transitioned to full-time in a position as Fawn Lake Country Club's Director of Sales & Marketing while still working in the club restaurants several nights a week.
Jenelle continues to assists our club in membership growth through her marketing, sales, and communications. Jenelle currently resides in Lake of the Woods with her two children, her 20-year old daughter Cammie who you will see out on the golf course running our Beverage Cart and her 11-year old son Sean. Contact Jenelle 540.972.6200 x4 for your membership inquiries today!
GOLF
Drew Falvey – Head Golf Professional
Drew Falvey began his career at Fawn Lake Country Club as an intern in May 2012 upon graduation from the Golf Academy of America in Myrtle Beach, South Carolina. He quickly enrolled into the PGA program and served as the Assistant Golf Professional for 3 years . In June 2016 at the age of 26, he assumed the challenging duties of Head Golf Professional while continuing to compete professionally in the Mid-Atlantic Section.
Drew discovered his love of the game at a young age while accompanying his grandfather to work at a golf club in New Jersey. He played competitive high school and collegiate golf in South Carolina where his passion for the game continued to grow. Over the summer and during holiday breaks, he worked for the Classic Swing School where he practiced teaching basic golf fundamentals.
Entering into his 9th season here at Fawn Lake Country Club, Drew has the experience, golfing abilities and leadership skills that have provided us with a successful golf operation and strong player development programs. His role has been instrumental in the successful execution of large golf tournaments and outings as well as individual and group instruction for golfers of all ages and abilities. Contact Drew at 540-972-3084 or via email at dfalvey@fawnlakecc.com to schedule a lesson today!
Garrett Moore – Golf Operations Manager
Garrett Moore joined our management team here at Fawn Lake in 2015. Garrett relocated to Virginia after attending the Golf Academy of America in Myrtle Beach, South Carolina, where he received a degree in Golf Course Operations and Business Management. After graduating, he spent the next four years working at Members Club at Grande Dunes in South Carolina. Garrett currently works alongside Drew as his "right hand man" and Fawn Lake's 1st Assistant Golf Professional while working to obtain his PGA certifications. He assists in the day-to-day operations of the golf shop along with running our LGA program and assisting in FLMG and other club events. His driven and upbeat personality along with cheerful spirit are a huge asset to our club.
Garrett is originally from North Salem, New Hampshire and grew up playing and working at Atkinson Country Club and Resort in Atkinson, New Hampshire. There he developed a genuine passion for golf at a young age and began his path to pursue the sport professionally. Garrett offer lesson to individuals and groups of all ages and abilities. He believes learning and improving fundamentals in a relaxed, friendly environment is the secret to consistent golf. Contact Garrett at 540-972-3084 or via email at gmoore@fawnlakecc.com to schedule a lesson today!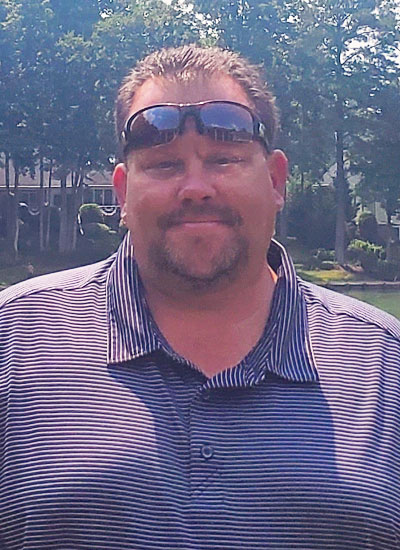 Kory York
Kory is the newest member of our Professional Golf Staff here at Fawn Lake Country Club. Kory began his career in the golf industry working for Somerset Golf Club in March of 1998. He quickly moved up the ranks but wanted more. He transitioned to Fredericksburg Country Club in March of 2000 where he worked as their Assistant Golf Professional for 7 years. In July 2007, he decided to leave the golf industry, but returned in summer of 2011 as the 1st Assistant Golf Professional at the Gauntlet Golf Club. Yet again, he quickly climbed the ladder of success to also become the Assistant General Manager in addition to his Golf Professional role. In 2018, he relocated to Augustine Golf Club as their Head Golf Professional before coming to Fawn Lake in Spring of 2021.
Kory's love of the game started at age 6 in Lake of the Woods playing golf with his grandfather. Growing up, Kory competed in high school golf followed by APA tournaments during his career in the industry. He comes with strong knowledge and experience in tournament operations, rules of golf, customer relations as well as private and group lessons. Contact Kory at the Golf Shop 540-972-3084 or via email kyork@fawnlakecc.com to schedule a lesson today!
Dave Smith – Golf Course Superintendent
Dave Smith is singularly responsible for maintaining Fawn Lake's prestigious Arnold Palmer golf course in first-class condition for the past 18 years. His core workforce is a cadre of loyal, dedicated and highly skilled employees who have been working for Fawn Lake Country Club for 10 years or more. During the critical summer months, the workforce is supplemented with highly motivated college students. Everyone who plays our magnificent 18-hole golf course, from members to high profile guests, comments on the amazing condition of the golf course. This is directly attributable to the leadership and management skills Dave brings to the job each day.
Dave grew up in Spartanburg, South Carolina, where he played golf with his dad nearly every day. His passion for the game led him to pursue a career in golf. Dave graduated from Clemson University with a Bachelor of Science degree in Horticulture. Dave and his wife Lisa, live in Fawn Lake with their three daughters, Anna, Sophie, and Ivy. Contact Dave at 540-972-9255
TENNIS
Brian Ratzlaff – Director of Tennis
A Northern Virginia native, Brian graduated from McLean High School as a Highlander ranked number one in both singles and doubles. Moving on to James Madison University, Brian played at #1 doubles and # 3 singles.
After graduation, Brian received his teaching certification from the United States Professional Tennis Registry and immediately went to work for Sport & Health Inc. as an Assistant Pro at the Regency and finished as the Director of Tennis/Head Pro at Annandale Sport and Health Club. At the Springfield Golf and Country Club, he worked for 3 years as Resident Professional. Brian also worked as the Director of Tennis at The Fort Myer Officer's Club and the Burke Racquet and Swim Club. After moving to our area in June of 2016, Brian was hired as the Head Professional at the Culpeper Sport and Racquet Club. Most recently, Brian has the role of Resident Tennis Professional at the Fredericksburg Country Club and the Head Pro at the Lake of the Woods Tennis Club.
Winner of the 2019 Free Lance-Star Best of the Burg Tennis Professional, Brian is certified Professional 1, Elite Professional by the United Stated Professional Tennis Association and is working toward his Master Professional certification. In addition to being a National Verifier for USTA's National Tennis Rating Program, Brian has been a clinician for the USTA "Schools Program" and the "USTA Area Training Center."
SOCIAL & DINING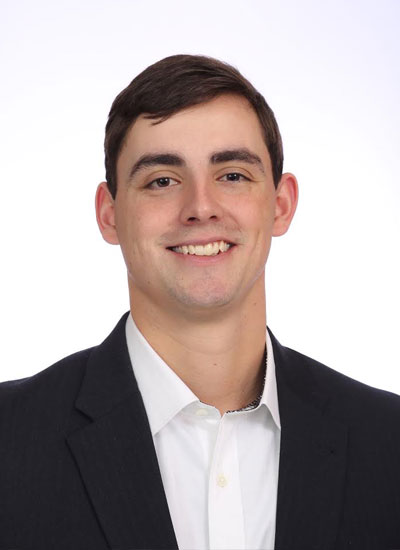 Michael O'Heir – Director of Food and Beverage
Michael grew up in beautiful Rappahannock County, and started his career at The Inn at Little Washington. After spending six years there, he moved to Williamsburg, VA to manage at the Williamsburg Inn. In addition to serving as the Assistant Director of Food and Beverage, he spent time assisting at the Golden Horseshoe Club. He is passionate about wine and in his free time enjoys playing golf. He is thrilled to have joined the team at Fawn Lake in May of 2021. You can contact Michael at 540-972-6200 ext. 3.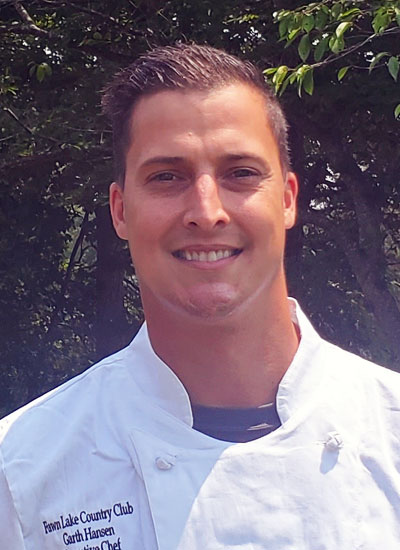 Garth Hansen – Executive Chef
Chef Garth Hansen began his career honing his skills in the New York City kitchens; including Le Cirque and Marea Ristorante. After relocating back to his home state of Virginia, he took his talents to the prestigious Jefferson Hotel located in Richmond Va. Most recently he was the Executive Chef, and Facilities General Manager of Flavor on Main and the Culpeper Center Event Hall.
Chef Hansen prides himself on consistency and the ability to showcase his culinary talents to the club members of Fawn Lake.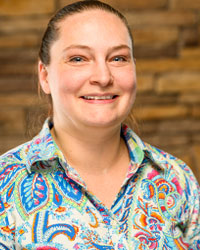 Heather Harrison – Assistant Director of Food and Beverage
Heather Harrison joined Fawn Lake Country Club in 2019 as Service Manager. She brings over 15 years of restaurant experience. Not only is she a professional mixologist but also brings a strong knowledge of wine. She has 4 years of formal fine dining General Management experience.
Heather lives with her Husband Chad. They have two kids, Kendall and Titan. Heather enjoys playing poker and watching movies in her spare time.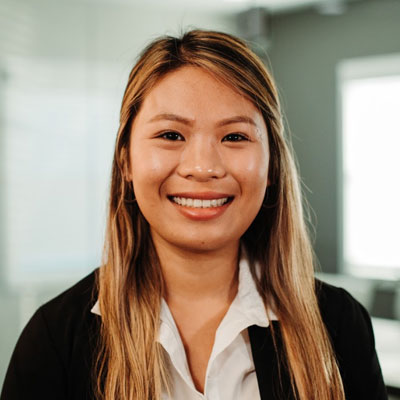 Catherine Alfaro – Service Manager
Catherine grew up in Stafford, VA before moving to Fawn Lake in 2013. She attended Germanna Community College and received her Associate of Arts & Sciences in Business Administration before attending James Madison University. She graduated from JMU in the fall of 2019 with a B.S. in Communication Studies and a Minor in Human Resource Development.
Catherine first started Fawn Lake Country Club as a host in 2019 before becoming a server a few short months later. She quickly became one of the lead servers on the team. In September 2020, she accepted a promotion to Staff Supervisor. Catherine then went on to accept another promotion in April 2021 as Service Manager.
Catherine has an encouraging and charismatic personality that would not only help the club create a flourishing relationship with its members, but also its rapidly expanding staff. She is excited to see where her new position takes her and is grateful to have been given the opportunity to grow and evolve with the company.
When Catherine is not at work, enjoys spending time outside on her patio and trying out different restaurants. Contact Catherine at 540-972-6200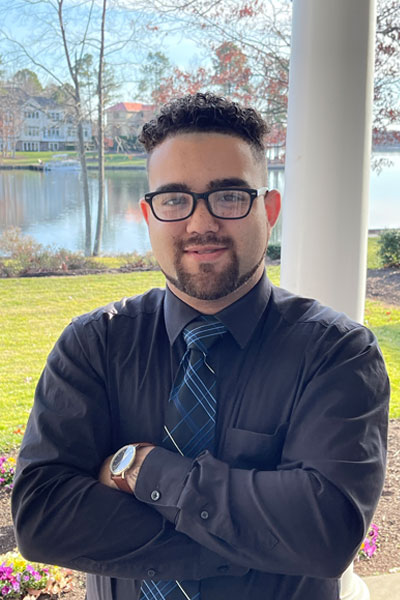 Joseph Cooper – Service Manager
Joseph joined the Fawn Lake Country Club Team as a Service Manager in December of 2021. He was born in Culpeper, VA April 9th, 1998. In 2016, at the age of 17, he started his journey in the restaurant industry. He had the vision of working in the top restaurants around the world. He was eager and willing to learn the hospitality industry. He became one of the youngest General Managers in this field at the age of 19. Then in 2019 he got the opportunity to work at The Inn at Little Washington, by working hard and showing his dedication to the field of hospitality and accommodation.
He is looking forward to embarking on a new journey as Food & Beverage Service Manager with Fawn Lake Country Club. In addition to his years of experience in Hospitality and Accommodation, he holds the following relevant certifications: Safety and Sanitation, CPR, AED, First Aid & Safe Serve Certified. He is excited to learn and grow in this position.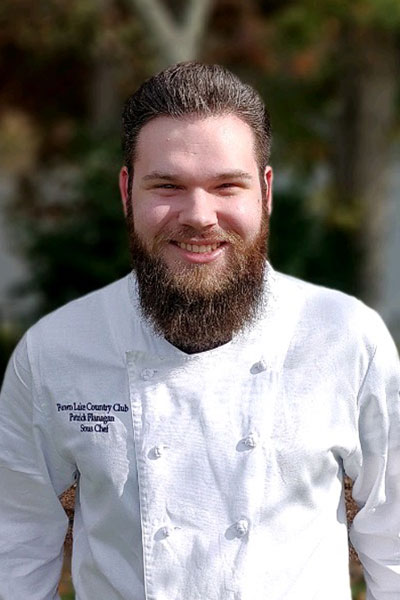 Patrick Flanagan – Lakeside Sous Chef
Patrick Flanagan was born and raised in Virginia for most of his life. After his father retired in 2009, he moved out of Quantico and spent his teenage years living in Fawn Lake. In the year of 2012, he graduated from Riverbend High School and began his career at the country club. Starting as a host greeting tables, it wasn't long before he transitioned to helping in the kitchen; starting off as a dishwasher and eventually being introduced to various cooking techniques from the chef at the time. From there he built upon his skills and worked his way toward Lead Line Cook, Kitchen Manager, and now Lakeside Sous Chef. Patrick is excited to use his knowledge to work alongside his fellow chefs in order to combine their visions with the old familiar charms that the residents of Fawn Lake know and love.
EVENTS

Jessica Hewlett, CWP – Private Events Manager
Jessica grew up in Fredericksburg and graduated from Chancellor High School. She moved to Northern Virginia in the late 90's and is excited to be "home" and working in the city she loves.
Jessica comes to Fawn Lake Country Club from the Mount Vernon Inn Restaurant at George Washington's Mount Vernon. She started her career in Catering and Events Management at the Clubs at Quantico where she learned the skills to move her forward to George Washington's Mount Vernon. While at George Washington's Mount Vernon Jessica honed her skills in Wedding and Events management and her passion for making a guest's vision come to fruition grew. Jessica is also Certified Wedding Planner helping couples create a custom wedding experience. Planning and managing hundreds of events while at Mount Vernon and The Club's at Quantico Jessica was always front and center for the guest at each event. She brings with her 5 years of Catering and Events management and over 15 years of customer service management.
In her free time Jessica likes to spend time with her 21-year old daughter Megan and two rescue pups Buster & Dixie.