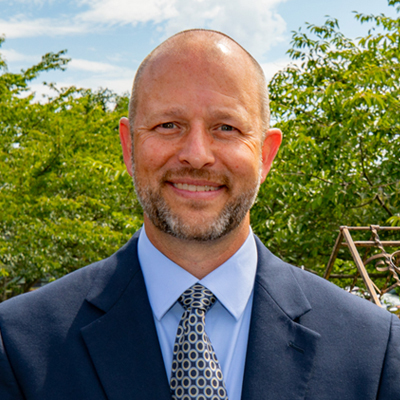 Bret Shifflett
GENERAL MANAGER CLASS A PGA PROFESSIONAL


Bret joined our team as General Manager and has responsibility for the Club's day-to-day operations. With his unique background in golf, tennis, and food and beverage, along with his extensive country club management experience, he is an outstanding choice to lead our Club forward. Bret graduated with a BA in Sociology and Public Administration from the University of Maryland, Baltimore County and played on their Varsity Men's Tennis Team. He has been a Class A Member of the PGA since 2006 as well as a Professional Golf Teachers & Coaches of America Certified Golf Instructor.
Prior to moving to Fredericksburg, Bret served as GM of Fords Colony Country Club in Williamsburg, VA, the Montgomery Country Club and the Links at Challedon, both in Maryland. Most recently he served as GM of Fredericksburg Country Club. Bret and his wife Kristin live in Fredericksburg, and share their home with two Great Danes (or is it the other way around?)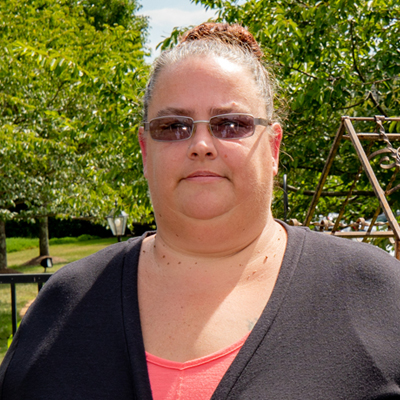 Sarah Hollars
ACCOUNTING DIRECTOR


Sarah was born and raised in Locust Grove, VA and moved to Nashville, TN in 1999.  After living in Nashville and receiving her Bachelor's Degree from Middle Tennessee State University, she moved back to Locust Grove in 2008 to be closer to her family. Sarah joined the Fawn Lake management team in March 2018 and took over as the Accounting Director in May of that same year.  She brings with her over 17 years of experience in a Country Club setting with 10 years spent in the Business Office at Fredericksburg Country Club, first in Accounts Receivable and then as the Accounting and Human Resources Director.  Sarah still lives in Locust Grove, three houses from her childhood home and parents, with her husband and three of their four children, three cats and two dogs.  When not at work she enjoys watching her children play baseball, basketball and do gymnastics as well as trips to Walt Disney World.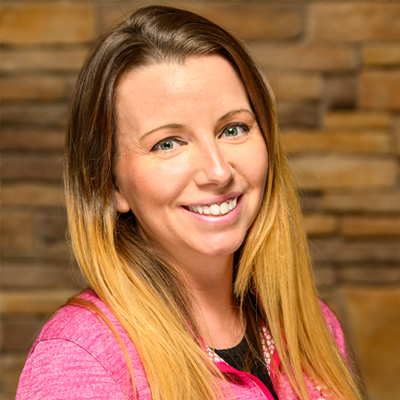 Jenelle Lavarine
DIRECTOR OF SALES & MARKETING


Jenelle joined Fawn Lake Country Club as a part-time server in September of 2017 and the Fawn Lake Community Association as a security officer later that winter during the club's off-season. Her time spent in both positions gave her the opportunity to get to know many of our members and residents and she quickly became known for her personable demeanor and excellent service. Over time she became a full-time server and ended her duties with Fawn Lake Security. In the fall of 2018, Jenelle added Club Communications to her responsibilities on a part-time basis. Jenelle assisted in many membership areas, including e-mail communications, event flyers, and various administration projects. Jenelle began to work full-time in the newly created Member Relations Coordinator position in December of 2019, where she helps our club continue to grow through marketing, sales, and communications. Fortunately, our members can still find her serving in the Lakeside Grille, Harbor Club, or The Cove, delivering the same personalized service as always. Jenelle currently resides in Lake of the Woods with her two children, her 18-year old daughter Cammie who also worked at the club and her 9-year old son Sean.
Jessica Hewlett
CWP, PRIVATE EVENTS MANAGER


Jessica grew up in Fredericksburg and graduated from Chancellor High School. She moved to Northern Virginia in the late 90's and is excited to be "home" and working in the city she loves.
Jessica comes to Fawn Lake Country Club from the Mount Vernon Inn Restaurant at George Washington's Mount Vernon. She started her career in Catering and Events Management at the Clubs at Quantico where she learned the skills to move her forward to George Washington's Mount Vernon. While at George Washington's Mount Vernon Jessica honed her skills in Wedding and Events management and her passion for making a guest's vision come to fruition grew. Jessica is also Certified Wedding Planner helping couples create a custom wedding experience. Planning and managing hundreds of events while at Mount Vernon and The Club's at Quantico Jessica was always front and center for the guest at each event. She brings with her 5 years of Catering and Events management and over 15 years of customer service management.
In her free time Jessica likes to spend time with her 21-year old daughter Megan and two rescue pups Buster & Dixie.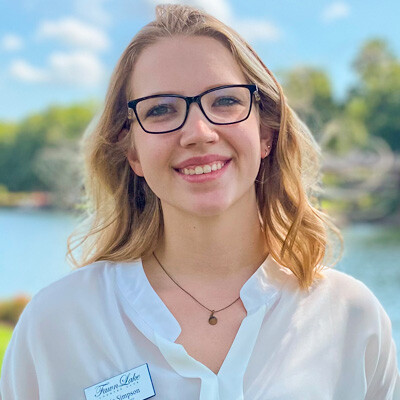 Katie Simpson
EVENTS MANAGER
Joining the Fawn Lake Country Club team in the Summer of 2020, Katie began as a Lakeside Grille Server, working events as a Banquet Server. She brings 4 years of industry experience prior to working as an events server for a local catering company. In just shy of two years at Fawn Lake, she has worked her way up to Events Manager. She is excited to continue developing her event management skills and learn the in's and out's of the industry.
Katie is a 2020 college graduate from Goucher College with a Bachelor of Arts in Russian, Spanish, and International Relations. She moved back to Spotsylvania upon graduating and moved into the Fawn Lake Community balancing working as a school helper and server during the peak of the pandemic. In her free time, Katie enjoys spending time with her family, whether it be enjoying the amenities of Fawn Lake or hiking in the Shenandoah Mountains.
Interested in joining our team?