10 and Under Youth Tennis
2020 FALL JUNIOR TENNIS CLASSES: Afternoons September-October
4- week sessions: Sept.8-Oct.2 and Oct.6-Oct.31
Class size is limited! Priority will be given to tennis members registering for the full session.
A DISCOUNT will apply for full-session and multiple-child family member registrants Confirmed reservations are required to ensure placement. Drop-ins are welcome as space allows Junior Tennis memberships are available for individuals and families. Contact Brian for details.
Download Registration Form (PDF)
Sign up for weekly clinics at
bratzlaff@fawnlakecc.com
or
www.fawnlakecc.tennisbookings.com
Brian Ratzlaff, Tennis Director
703-300-3093
(cell),
540-805-8509
(tennis hut)
---
10 & UNDER: RED BALL (36-foot court); Tuesdays and/or Thursday: 4:45-5:30pm, Parents welcome to join *** Tennis Member: $32/session or $10/day Non-Member: $40/session or $12/day
Red balls are larger than a traditional ball and are designed to bounce lower and move slower. Drills, activities, and games are designed to keep the participants excited about the new game. KEEP IT SIMPLE … KEEP IT FUN!!!
---
10 & UNDER: ORANGE BALL/GREEN BALL (60' & 78' court); Tuesdays and/or Thursday: 5:30-6:30pm Tennis Member: $48/session or $14/day*** Non-member: $60/session or $18/day
Orange balls bounce higher, move a little faster than the red balls; green balls more than orange balls. Drills, activities, and games are designed to increase the skill level of these young players, while keeping things fun and interesting. Emphasis is on movement, fun & stroke production, with the goal of introducing the player to match play.
---
11 & Above: YELLOW BALL Wednesdays; 4:30-6:00pm Tennis member: $66/session or $20/day Non-member: $85/session or $25/day
Drills, activities and games will evoke competitive experience, in a light and fun atmosphere. Movement, stroke production and fun are emphasized. Tactical and technical aspects are employed to help create thinking players. Players in this group should consider entering tournaments or school team play.
---
TOURNAMENT PREP: YELLOW BALL Fridays: 4:30-6:00pm Tennis member: $66/session or $20/day non-member: $85/session or $25/day
This is a high-intensity training group for USTA tournament players and high-school players. This group will focus on all aspects of the game: mental toughness, physical conditioning, technique, and tennis I.Q. Players will push themselves to reach their peak potential in a fun, team-like atmosphere. Players in this group are strongly encouraged to play regularly in USTA tournaments and on their school teams.
---
*MAKE-UPS are a courtesy offered by the professional staff and are not guaranteed. Six hours prior notice must be given when canceling a lesson to be eligible for a make-up class. This allows for others who have missed a class, or are on a waiting list, the opportunity to attend in your place No shows and late cancels may forfeit that class. See pro for details.
** Participants may be grouped according to age and level at the discretion of the professional staff
*** 10U rackets range from 19-25 inches depending on child's height. See Brian for size recommendation. Rackets and balls are available to purchase in the pro shop.
Pricing listed is the session price/drop-in day rate Walk-ins (NO reservation) are welcome as space allows Prices listed are for each day of the week registered, not all classes offered.
In light of the concerns associated with the COVID-19 virus, the following guidelines have been established by FLCC management, the Tennis Committee and the Board of Directors, in the hope of contributing to a safer exercise routine.
Download FLCC COVID-19 Guidelines (PDF)
We ask all players support these initiatives.
The Tennis Hut will be staffed at certain hours, but will be closed to members.
Practice "social distancing" guidelines as established by the Center for Disease Control.
Please do not enter the courts if you are not feeling well for any reason.
Enter the courts only from the doors closest to the tennis hut.

Doors should remain closed, but unlatched during business hours.

All large group (more than ten participants) events have been postponed until further notice.

Group lessons will be restricted to 4-6 players dependent upon class structure.

The number of balls used during lessons will be reduced. Stock will be rotated regularly.

Pro only will pick-up balls "herded" by players. Players should not pick-up lesson balls.

NO drinking water will be provided on the courts. Please bring your own beverages.
All sales will be on account only. NO cash sales please.
Practice balls, baskets and racket demos will not be available.
No cups, trash cans nor scorecards will be available. Please take your trash with you.
Courts will be swept by staff only as deemed necessary by the tennis staff.
The ball machine will be available for rental during tennis shop hours. See Brian for details.
Staff will clean the ball machine and ball basket after each use. Staff will clean court lighting switches.
The number of balls used during lessons will be reduced. Stock will be rotated regularly.

Pro only will pick-up balls "herded" by players. Players should not pick-up lesson balls.

We suggest that you restrict the number of playing/practice partners.
We suggest you mark the balls so that the server only uses/touches certain balls.
Please do not touch anything that may be touched by someone else. Returned balls without picking them up.
10 and Under Youth Tennis
Can you imagine sending your child out to play baseball for the first time with the same-sized bat and ball used in the major leagues? Of course not. The USTA 10 and Under Youth Progression program was developed with the child in mind. It uses smaller racquets, slower balls, and limited court sizes, which allow children to get acclimated to the sport in a fun environment and enjoy success faster. Children are able to master proper stroke techniques at an earlier age, creating a foundation for more advanced play as they grow. Our tennis pro can place your children in the clinic level best suited for them, regardless of their age. Ready to get your child on the court today? Contact Kevin Cretella for details.
Recommendations:
Racquets
For 8 and under, the racquet should be 19, 21, or 23 inches.
For 10 and under, the racquet should be 23 or 25 inches.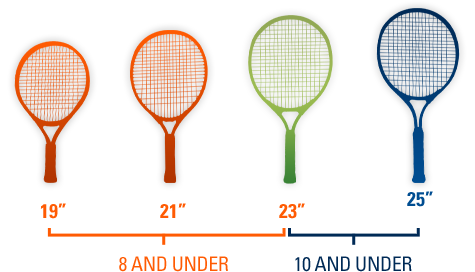 Balls
For 8 and under, red foam ball.
For 10 and under, orange ball.
For 12 and under, green and orange balls.
Scoring
For 8 and under, best of three games with the first to seven points winning the game.
For 10 and under, best of three sets with the first to win four games winning the set.
For the third set, the first player to win a seven-point tiebreak wins the match.