At Fawn Lake, golf is an elevated experience. Our 18-hole Arnold Palmer Signature golf course known as "Virginia's Masterpiece" is an exquisite sanctuary for the most exclusive play. At 7,010 yards in length from "the tips," the course and its lush, tree-lined fairways offer an escape from the demands of everyday life.
As a member, you'll regularly find yourself among:
Well-manicured Zoysia grass fairways and collars
Spacious bentgrass greens and tees
Varied heights of thick fescue rough
Perfectly maintained bunkers
Wildflower and wetland backdrops
An array of native wildlife like whitetail deer, swans, mallards, hawks, and bald eagles
Bluebird Trail with 39 bluebird boxes that are monitored and reported on annually to the Virginia Bluebird Society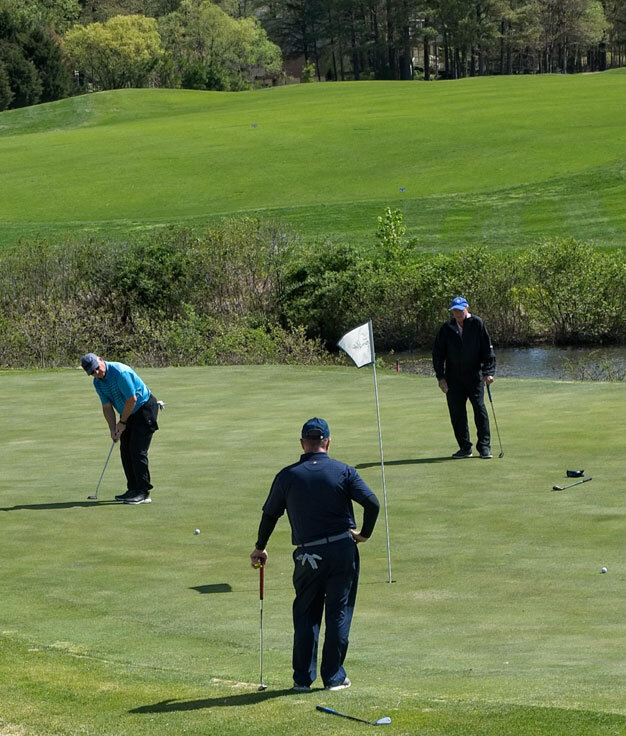 TOURNAMENTS, OUTINGS, AND SOCIALS
Golf is a key part of the Fawn Lake lifestyle. Our Men's and Women's Golf Associations offer opportunities for casual or competitive play and fun, engaging social interactions.
Nestled within Fawn Lake community homes, our spacious and private course gives our members the added value of the great tradition of golf and the bonds of friendship formed through mutual respect of the game. If you love challenging play, you won't be disappointed by the Arnold Palmer Signature course at Fawn Lake Country Club.
Our members can perfect their play at our full-scale practice facility outfitted with artificial turf and natural Zoysia grass tees, a chipping green, a putting green, and two practice bunkers. Comprehensive instruction is available for players of all ages and abilities.
"Virginia's Masterpiece," the pride of Fawn Lake Country Club, will reward you with an unforgettable experience.
Course, Pro Shop and Range Hours
COURSE AND PRO SHOP: Monday – Course Open for Member Play at 2PM off 1st Tee (click here for Monday play policies) Tuesday – Sunday March & April – Pro Shop opens at 8 am and closes at 6 pm. Tee times start at 8:30 am. May – September – Pro Shop opens at 7:30 am and closes at 6:30 pm. Tee times start at 8 am. October – Pro Shop opens at 8 am and closes at 6 pm. Tee times start at 8:30 am. November – February – Pro Shop opens at 8:30 am and closes at 5 pm. Tee times start at 9 am.
DRIVING RANGE & PRACTICE PUTTING GREEN: Open subject to Ground Maintenance needs
Want to up your game? Our full-scale practice facility is open to members looking to improve their play. Fawn Lake has a staff of friendly golf professionals for individual or group lessons or clinics for players at any level. Whether you're interested in one-on-one private lessons, or prefer practicing in a group setting, golf lessons from our pros can make a positive difference on your swing, improve your putting, and conquer that hook once and for all. Fawn Lake Country Club also has weeklong junior camps, Ladies' beginner clinics, and PGA Junior Golf League Teams to aid in the development of skills.
Contact Us
We're here to answer your questions in a timely manner. For more information about golf at Fawn Lake, contact us via phone or email during regular business hours.