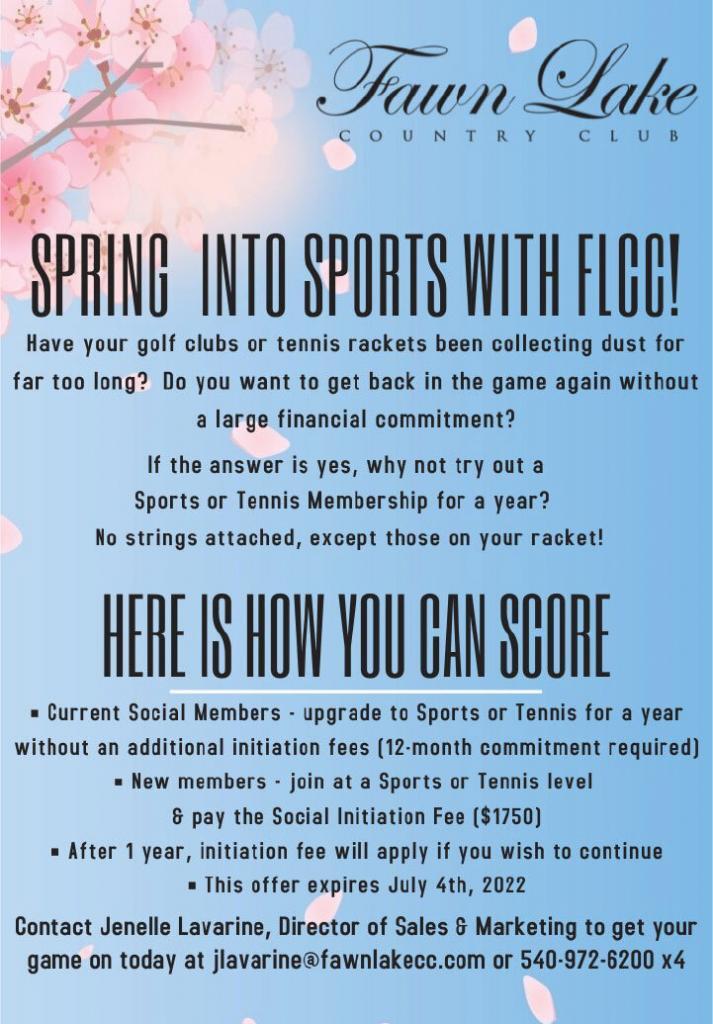 SEASONAL MEMBERSHIP PROMOTION – SPRING INTO SPORTS!
Have your golf clubs or tennis rackets been collecting dust for far too long? Do you want to get back in the game again without a large financial commitments?
If the answer is yes, why not try out a Sports oe Tennis Membership for a year? No strings attached, except those on your racket!
HERE IS HOW YOU CAN SCORE
Current Social Members – upgrade to Sports or Tennis for a year without additional initiation fees (12-month commitment required)
New members – join at a Sports or Tennis level and pay the Social Initiation Fee ($1750)
After 1 year, initiation fee will apply if you wish to continue
This offer expires July 4th, 2022
Contact Jenelle Lavarine, Director of Sales & Marketing [email protected] or call 540-972-4653 ext. 2.
Become an FLCC Member for a Day
Our Member for a Day program invites you to experience all that Fawn Lake Country Club has to offer—before you decide to commit. Play 18 holes through our lush PGA golf course, test your shoes on our buoyant clay tennis courts, dine with family and fellow members at The Harbor Club, and enjoy a true sense of peace, pampering, and camaraderie within serene lake views and laughter among friends.
We're confident your Member for a Day experience will leave you longing for more. Call today to schedule a special visit. We look forward to welcoming you here.