Tennis Program Highlights
It doesn't matter if you are new to tennis or an advanced player, or anywhere in between – Fawn Lake Country Club is the place to play. Our growing competitive program includes both Men's and Women's USTA teams, as well as a Junior Team Tennis League for kids over the age of five.
Scheduled to begin in 2022, our junior and adult players can enter the inter-club league offered in conjunction with the Fredericksburg Country Club and the Falmouth YMCA. We also offer club tournament ladders, Member-Guest tournaments, and many other family-focused programs and events.
If you're into more casual play, men's and women's groups meet several times a week for friendly games with no commitment, no pressure, just fun.
Become a Tennis Member
Regardless of whether you're looking for exercise, competition, or socialization and fun, the Fawn Lake Country Club tennis program has something for players of every skill level.
The tennis program at Fawn Lake Country Club isn't just for experienced players. Our pros are dedicated to providing quality instructional opportunities to new players interested in the game. No matter your age, we have classes, private lessons, and camps to help develop skills for beginners and advanced drills and cardio tennis for the seasoned player. Classes are offered during all seasons except winter and on various days and times for optimum convenience.
If you're looking for competitive play, Fawn Lake Country Club offers flight and scramble programs. For the tournament player, our club singles and doubles leagues culminate in a championship match and your chance to bring home the top prize. Match play runs year-round with finals in the fall. If you're ready to test your endurance, check out our cardio tennis or ball machine drills.
TENNIS FACILITY
Players of any level will be impressed with the tennis facility at Fawn Lake Country Club and our showpiece Har-Tru clay courts. Har-Tru clay is a unique crushed stone surfacing clay that dries quickly and allows continued play through light rain. It also helps keep the playing surface 10-15 degrees cooler than a traditional hard court, allowing for a more comfortable game on warmer days. Additionally, the sliding surface of a Har-Tur clay tennis court reduces the risk of injury.
Playing on clay helps promote a more well-rounded game by developing stamina, patience, and strategy. With a slower ball speed, players have more time to make shots, construct shot sequences, and enjoy longer rallies for less strain on the body.
For an even more comfortable playing experience, check out our air conditioned tennis hut. The newly renovated hut includes a covered porch with a ceiling fan, cooling mist station, and a refrigerator/freezer. When you're ready for a break, relax at one of our terrace umbrella tables or browse inside for tennis merchandise. We carry a full line of racquets, Fawn Lake Country Club branded clothing, balls, grips, and many more accessories. Additionally, we offer in-house racquet stringing and repair services.
---
Our hut is open Tuesday through Sunday 9am-5pm from April to November.
Usage
Court usage: Membership classes Tennis and above have unlimited use of our tennis facilities. Social members may enjoy the courts/programs eight times per year; Non-member residents may participate once per quarter. 
Session: Instructional group classes are typically held in a series of four consecutive weeks. Discounts apply.
Drop-In: A reserved, one-time participation in a series of classes as space allows 
Walk-In: Showing up for a class w/o a reservation. Permitted if space allows. 
Flight: Competitive match play with a multi-week commitment. Winners are determined, prizes are awarded. 
Scramble: a one-time, doubles round robin. Scores are tracked and winners are declared, 
Social: a less-competitive playing format, singles and doubles play, ball machine drills fun and games. No scores are tracked, nor winners declared.
Court Fees: There are NO court fees for Tennis, Sports, Junior Executive and Golf members. Social members pay $10.00 guest fee per player.
Guest Fee: $10.00/person/visit. Member must be present or make arrangements with the professional staff prior to use.
Ball machine rental: Tryout our Playmate iSMASH ball machine; $15/hour or $110.00/season (unlimited)
Lessons & Clinics
If you're interested in improving your game, check out one of our regular lessons or clinics for in-depth instruction on how to step up your play. We offer a variety of youth and adult classes like cardio tennis, adult and youth clinics, and team practices to promote the fun and fitness that comes along with tennis. This sport is a great way to spend time with family and enhance your lifestyle.
Junior and Youth Camps
If your child is developing an interest in tennis, check out one of our junior and youth camps held during the spring and summer. One camp is held each spring, while two are held each summer. We'll teach your young athlete all the fundamentals they need to start building and improving their game.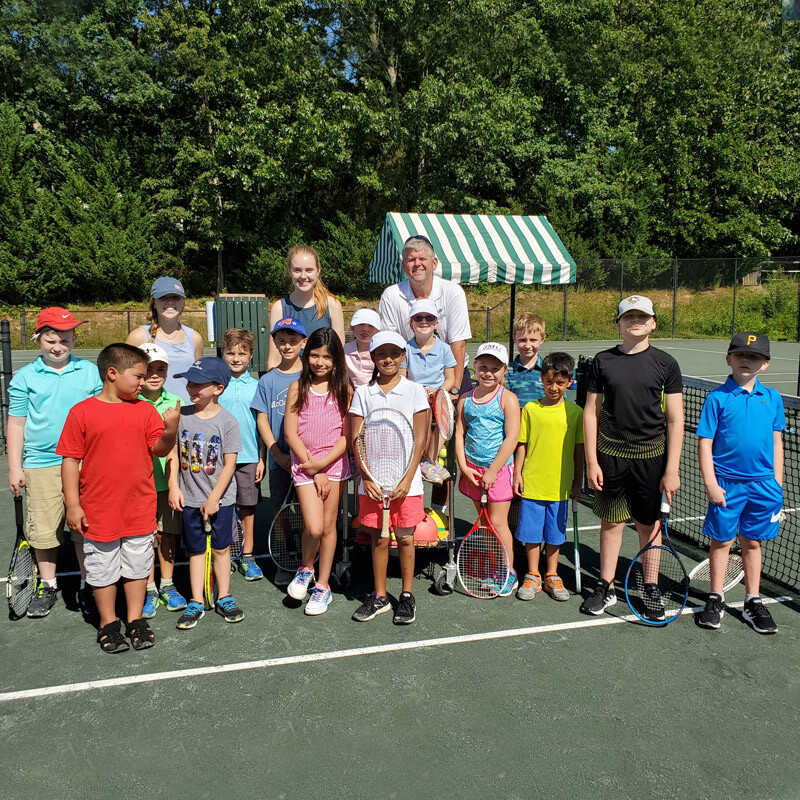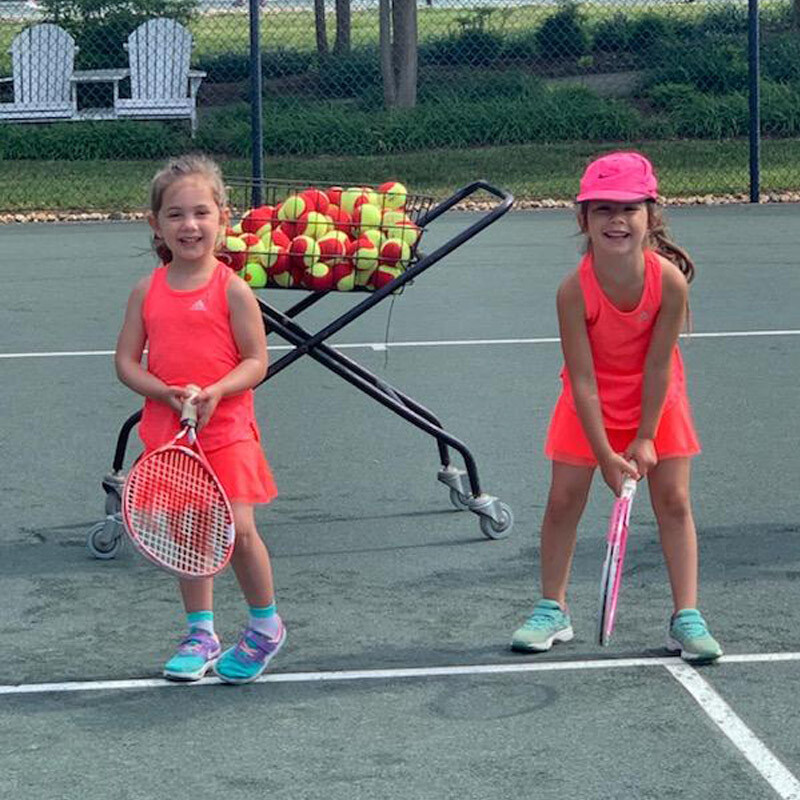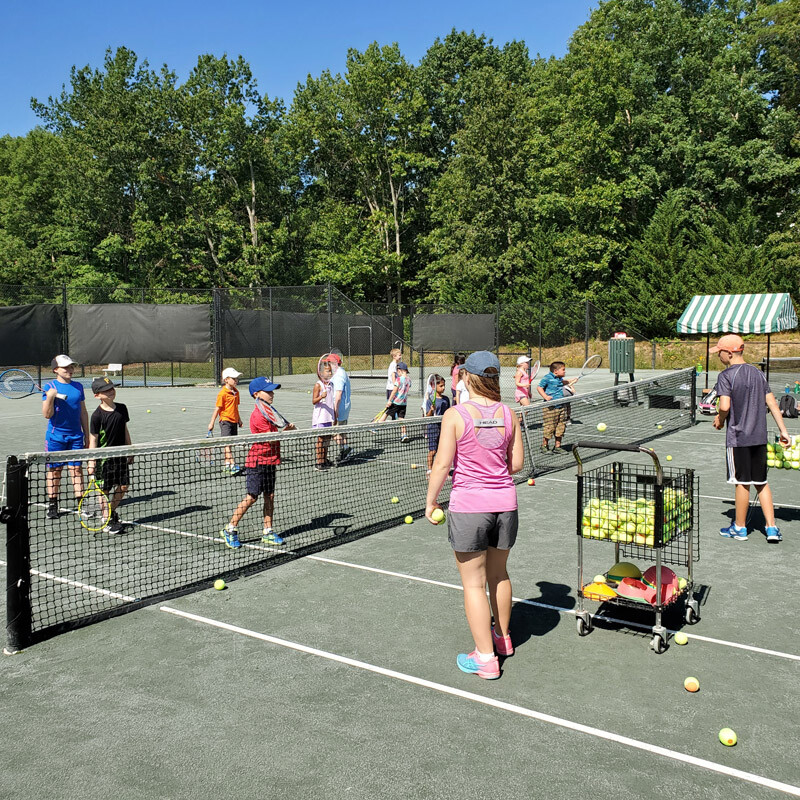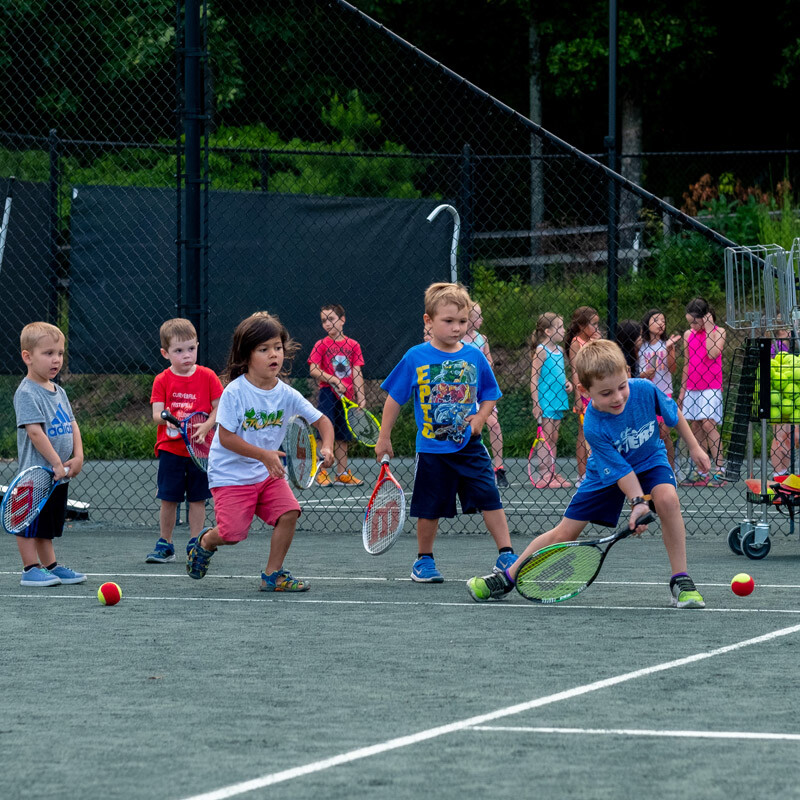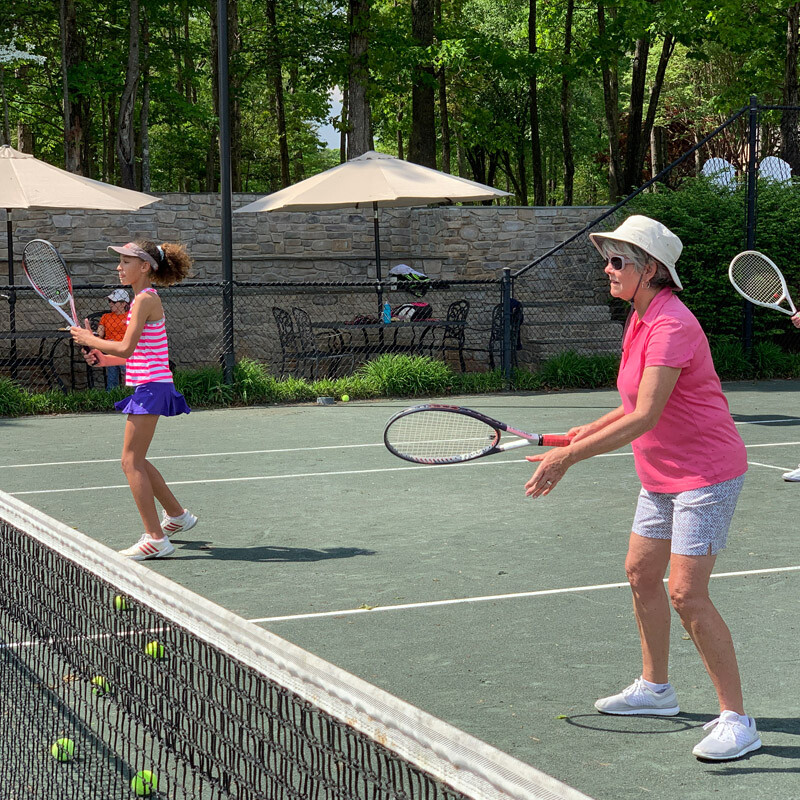 Youth Progression Program
Your child wouldn't step onto the Little League field with the same size bat and equipment used in the Major Leagues, and tennis should be the same. We offer the USTA 10 and Under Youth Progression Program, which was designed with the child player in mind. Players in the program use smaller racquets, slower balls, and reduced-size courts to allow children the time to get acclimated to the sport in a fun way to enjoy faster success. Players can master proper stroke techniques at an earlier age, allowing for a more solid foundation as they develop through advanced play.
Racquets:
For 8 and under, the racquet should be 19, 21, or 23 inches. For 10 and under, the racquet should be 23 or 25 inches.
Balls:
For 8 and under, red foam ball. For 10 and under, orange ball. For 12 and under, green and orange balls.
Scoring:
For 8 and under, best of three games with the first to seven points winning the game. For 10 and under, best of three sets with the first to win four games winning the set. For the third set, the first player to win a seven-point tiebreak wins the match.
Tennis Staff: 
Brian Ratzlaff: USPTA Elite Professional Tennis Director/ Head Teaching Professional 
540-805-8509, [email protected]
Call 540-805-8509 to speak with our Tennis Director/Head Pro Brian Ratzlaff to schedule a repair or sign up for a lesson or clinic.
Contact Info: 
Tennis Hut (pro shop) 540-805-8509 
Pro shop staff/ Junior Assistants:
Rachel Marcus
Tennis Committee Chairman:
Phil Basso