Whether you are new to the game, an advanced tournament player or somewhere in between, we have something for you at FLCC. Our growing competitive program includes Men's and Women's USTA teams and Junior Team Tennis League for children over the age of 5. An inter-club league, for juniors and adults, with the Fredericksburg Country Club and the Falmouth YMCA, is slated to begin this summer. We also offer club tournament ladders, Member-Guest tournaments and various other family-oriented programs and events.  For those that just want to play non-competitive tennis, there are men's and women's groups that meet several times a week to just play!  Show up whenever you have time, no commitments, no pressure.
Our Tennis Department offers a variety of instructional opportunities in both group and private sessions. Classes range from principles of tennis for beginners, to advanced drills and cardio tennis for the more accomplished player. Classes are available spring, summer and fall, early morning, daytime, evenings and weekends. 
If you're interested in competitive play, FLCC offers flight and scramble programs. For the tournament player, we offer our Club Singles and Doubles Championships. Match play runs throughout the year with the finals in the fall. For fitness play you can test your endurance in one of our cardio tennis or ball machine drills. 
Social: Join our monthly tennis socials, play in a seasonal group or invite a friend to our MemberGuest social events
TENNIS FACILITY
Our tennis facility includes four well-lit Har-Tru clay courts. HAR-TRU is a unique crushed stone product that provides many benefits. Often referred to as "fast-dry," HAR-TRU dries quickly allowing for continued play through light rain. HAR-TRU is 10–15 degrees cooler to play on than a hard court and has a sliding surface that reduces the risk of injury. Playing on clay develops toughness, stamina, patience, and strategy. It also promotes a more well-rounded and strategic game. Slower ball speeds allow players more time to get to shots, construct shot sequences, and enjoy longer rallies that are less strenuous on the body. 
Beat the heat in our air conditioned tennis hut. Newly renovated, our hut includes a covered porch with ceiling fan, cooling/mist station and refrigerator/freezer. Take a break on the terrace at our umbrella tables, or step inside to purchase merchandise. In addition to a full line of tennis racquets, FCC logo clothing, balls, grips and accessories for sale, we offer in-house racquet stringing and repair services. 
Our hut is open Tuesday through Sunday 9am-5pm from April to November.
USAGE
Court usage: Membership classes Tennis and above have unlimited use of our tennis facilities. Social members may enjoy the courts/programs eight times per year; Non-member residents may participate once per quarter. 
Session: Instructional group classes are typically held in a series of four consecutive weeks. Discounts apply.
Drop-In: A reserved, one-time participation in a series of classes as space allows 
Walk-In: Showing up for a class w/o a reservation. Permitted if space allows. 
Flight: Competitive match play with a multi-week commitment. Winners are determined, prizes are awarded. 
Scramble: a one-time, doubles round robin. Scores are tracked and winners are declared, 
Social: a less-competitive playing format, singles and doubles play, ball machine drills fun and games. No scores are tracked, nor winners declared.
FEES
Court Fees: There are NO court fees for Tennis, Sports, Junior Executive and Golf members. Social members pay $10.00 guest fee per player. 
Guest Fee: $10.00/person/visit. Member must be present or make arrangements with the professional staff prior to use. 
Ball machine rental: Tryout our Playmate iSMASH ball machine; $15/hour or $110.00/season (unlimited)
YOUTH PROGRESSION PROGRAM
Can you imagine sending your child out to play baseball for the first time with the same-sized bat and ball used in the major leagues? Of course not. The USTA 10 and Under Youth Progression program was developed with the child in mind. It uses smaller racquets, slower balls, and limited court sizes, which allow children to get acclimated to the sport in a fun environment and enjoy success faster. Children are able to master proper stroke techniques at an earlier age, creating a foundation for more advanced play as they grow.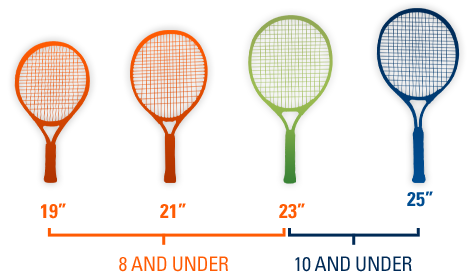 Racquets
For 8 and under, the racquet should be 19, 21, or 23 inches.

For 10 and under, the racquet should be 23 or 25 inches.
Balls
For 8 and under, red foam ball.

For 10 and under, orange ball.

For 12 and under, green and orange balls.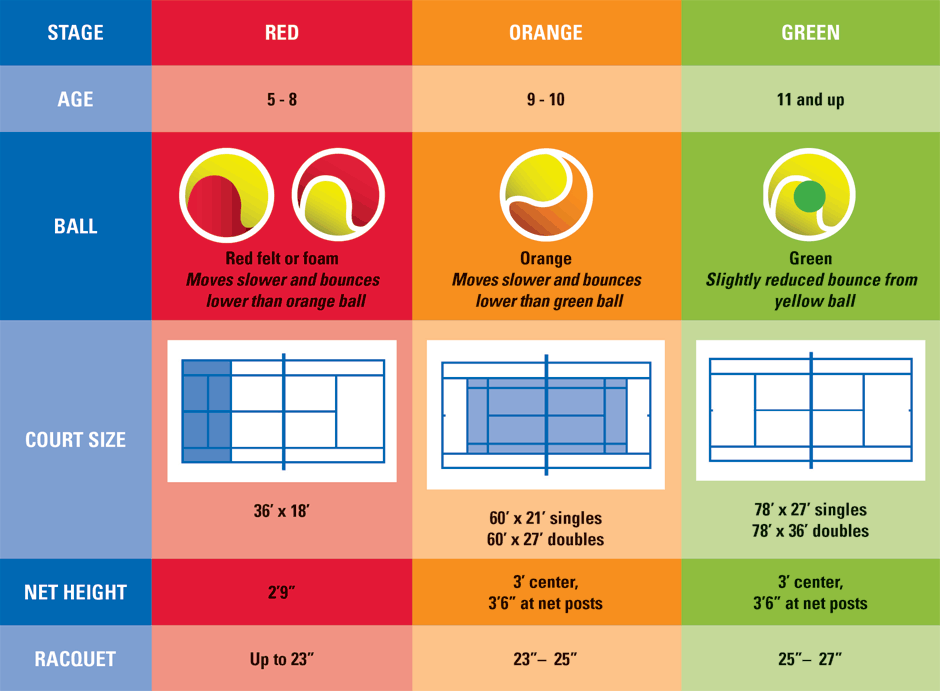 Scoring
For 8 and under, best of three games with the first to seven points winning the game.

For 10 and under, best of three sets with the first to win four games winning the set.

For the third set, the first player to win a seven-point tiebreak wins the match.
Call 540-805-8509 to speak with our Tennis Director/Head Pro Brian Ratzlaff to schedule a repair or sign up for a lesson or clinic.
Tennis Staff: 
Brian Ratzlaff: USPTA Elite Professional Tennis Director/ Head Teaching Professional 
540-805-8509, [email protected]
Pro shop staff/ Junior Assistants Rachel Marcus 
Tennis Committee Chairman: Phil Basso 
Contact Info: 
Tennis Hut (pro shop) 540-805-8509 
Court reservations: www.fawnlake.tennisbookings.com